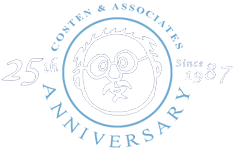 Costen & Associates Insurance


Address: 1990 Kensington Rd NW
Calgary, AB T2N 3R5
Phone: 403-245-2424
Toll free: 800-811-5044
Fax: 403-237-5599
Toll free: 800-811-5109
Email: [email protected]
Hours of operation:
Mon – Fri: 8:30AM – 5:00PM MST
Saturday: 10:00AM – 4:00PM MST
Costen & Associates was established in 1987 by Larry Costen, and is now moving into the next generation of leadership. Crista Costen has taken on management responsibility and is working with Larry to grow and build the business. Costen & Associates is a team of experienced insurance brokers and our main goal is to ensure our clients insurance needs are met.Costen & Associates Insurance Calgary is a company based on our 3 Key Success Factors of Team, Professionalism and Perspective.